My Finished Scenes
Well, here is my first official completed scene that is A) bigger than 1/4" scale and 2) a gift for someone other than a confirmed miniaturist. Actually, it will go to my mom. She complained at Christmas that everybody seemed to have a miniature from me but her. Where this isn't true where the family is concerned, I do suppose my miniatures have travelled around the globe when I do trades with my swapping pals! The little doll in the scene for instance -- I traded with a lady in Australia for her. Yet my mother remains miniature-less. Well, this will change that!:)
To begin with, you might notice that "that is one big baby" (as hubs put it). Not really. All the furniture you see is child sized. Some people might consider this a half scale venture (that is to say, one half the size of one inch scale) but this is not what I intended. I wanted a little room for the little girl to have as her very own, with furniture just her size.
Almost everything in the scene was made by yours truly. The only exceptions are the doll (I made the clothes), the basket, the flower pots (one is a wood turning, another is an electical wiring cap) and the shell on the table (made by nature). The scene represents the array of skills I use to make miniatures (woodworking my latest venture). The base of the scene started out as an ordinary every day wooden embroidery hoop. The back started out as poster board that was cut out with the scalloped pattern. This idea I got from Nutshell News/Dollhouse Miniatures. A little paint, some ribbon, a piece of fabric, a piece of wallpaper and some cording that I created myself. I would have bought the cording, but the craft store didn't carry anything that wasn't metallic. I have issues with gold and silver crafting supplies, because I feel that it is what gives crafters a bad name.
The carpet is a piece of felt. It might not be traditional dollhouse carpet, but I liked the texture and effect. This teaches a great lesson: it isn't what everybody else is using but what you think looks good that is important in your project.
Once I had my base, it was time for the decorating. Those bozos on the home and garden networks make it look easy, but it does take a bit of work to get items to mesh. I am also a color clutz. I like very bright colors, lots of roses and such. Unfortunately they don't always look right stuck together in close proximity. So with a little help from my electronic mailing list buddies I came to the scheme you see above. The little skirted table and the chest were changed from being colorful to having a more plain taste. I felt the crochet in monocolor gave the pieces more style than the original patterns I had chosen, and no longer fought for dominance with the small armchair. Once I had the furniture done, the accessories mostly fell in place (and the occasional one fell into my paint water reservoir - way different story!).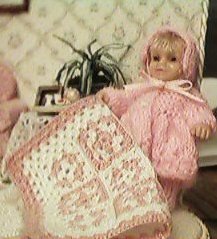 Above is a close up of the little girl I received in my swap. I repainted they eyes and added some blonde viscose hair. She sports a lovely knitted outfit made by myself, and holds a little pink and white granny chequerboard afghan. BTW, you may ask, how did I know the baby was a little girl? Easy, she is anatomically correct! She won't be affixed to the scene. She is a bit heavy for that, plus I really don't want to get glue over that lovely pink jacket either. Not to mention that Mom can look at it closer this way.
This is a side view, showing nicely the birdhouse and dahlia/rose flower basket. Yo can also see the chihuahua (mom's favorite dog) a bit better. I sculpted her out of fimo. She is my very first dog out of this medium! Note the table cloth on the skirted table. It is a pineapple and shell style, and actually made from a large pattern. The reason for its diminutive state is that I made it with sewing thread. The table was not one of those "cover a cone" style, either. I built it from scratch.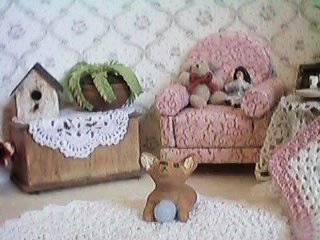 Another good view of my chihuahua - these dogs have very expressive ears and I think I caught "surprised but expectant look". She has a ball to play with, a special treasure. Mom's chihuahua absolutely loves the game of fetch, and when younger would run after that ball as long as you were willing to throw it. In the picture you can also see the toys on the chair - a tiny pom-pom bear and a wee doll. The doll (about 1/4" tall) actually has a wire armature. You can also see my lovely boston fern, which adds a splash of green to the corner. Decorators would have you always put a bit of black in any room (which I did, note the roof of the antiqued birdhouse), but green will take a cold institution and turn it into a cozy space. In this photo you can also see the chest that I made. It actually started life as a pattern for a 1/4" medieval chest, but I added a bit to the dimensions. The final result is just big enough for the space without taking up too much room. I had a lot of hassle with this chest. The one you see here is actually the third in the series. The first two did not meet my expectations. The first I tried to paint, but it just didn't look right. I then decoupaged a flowery fabric onto it, and again I didn't like it. So I built a second. The painting job I did on that didn't work either. Eventually I did get something I did sort of like, but the color really didn't go with anything else! Then I built the last and merely stained it. I let the draped doily do all the decorating for me.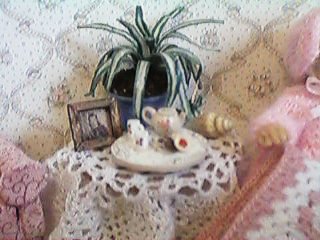 A close up of the goodie table. Featured is a small pink teaset (with a small rose painted on to it), two small cups and a plate full of oreos and thumbprint cookies (shortbread with a depression in the middle for jam). Note the little hand ready to snatch a cookie as well. Of course, they are hers! Behind the little tray is a neat little spider plant, and if you look carefully you will see it has a baby hanging off of it. To the right side is that shell I didn't make;D, and to the left a tiny mitred frame with a photograph. The frame was intended to be a 1/4 inch scale item, but the wood was a bit too thick and it became a table top picture.
A dramatic overhead view of the dog sitting on the crocheted rug. I had intended on a needlepoint carpet, but this round doily type rug looks better, I think. It did start out life as a pattern for a certain fashion doll ( who shall remain nameless until another company starts paying me to mention it...;)), more precisely as a table cloth. I crocheted it in a thin crochet cotton, and because it was a fairly stiff thread the little cloth turned out fairly stiff. Makes a lousy table cloth but I think it makes a charming rug. I have seen rugs such as this in real size decorator magazines. The nicest touch is that I didn't have to co-ordinate it -- because it is so lacy you can see the color of the carpet and it automatically "goes"! Is it me or does the dog look a little cranky in this shot?
This was the final piece made, and effectively ties the room together. I think a room needs needlework, don't you? It is a small sampler ( about 1 1/2 inches square) done on 32 ct Belfast linen. Note that the sampler has been signed and dated. This is something you should do with all your rooms, and this is an attractive way to do it! I will be signing the bottom of the scene as well.
And that is it for my first "not quarter scale" project! Hope you enjoy it. Now I just have to force myself to put it in a box and trust the Son of a Buns at the post office with it. Shudder! Everybody cross their fingers that it makes it ok!!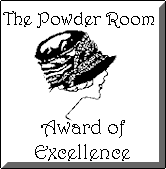 This is the award I won for this project!:)
---